The Cave is a beautiful Cycladic farm house for rent in Fellos, private annex consisting of one master and one double room, bathroom and kitchenette, with outdoor seating (sunset terrace for two and patio for larger groups) and private parking. Marrying the crisp Aegean white and blue, the Cave is fully renovated in the Cycladic tradition of thick whitewashed stone walls, wood beams, Karystos stone floors, and traditional 'pattiti'.
Amenities
We believe in smart luxury, so our home has everything we ourselves enjoy: fully equipped kitchenette with all amenities and stylish dinnerware, the highest quality bath linens and quilts, Samsung 42'' Smart TV with Netflix, 1,200 channels and on demand video, A/C with individually controlled heating & cooling, safe deposit box, toiletries and hair drier, complementary beach towels, sunbeds and seating facilities. All the small luxuries that make our holidays special.
Bedrooms: 2(Sleeps: 5)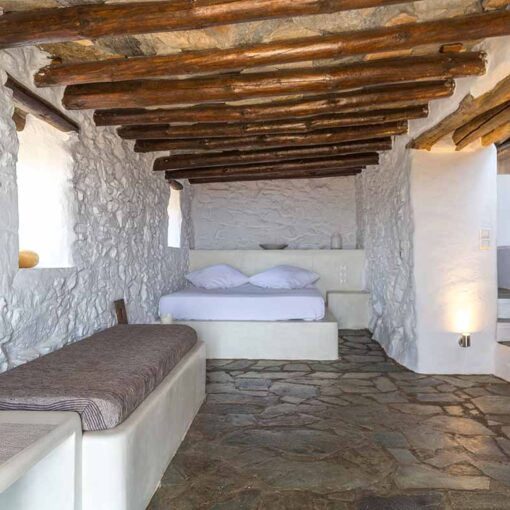 The master bedroom
The master bedroom is a large, airy studio, with a built-in large queen bed and sitting area. The design is purposefully minimal to let they eye rest on the beautiful stone and wood finishings. With its breathtaking view, this is the perfect place to relax, enjoy a movie and fall in love.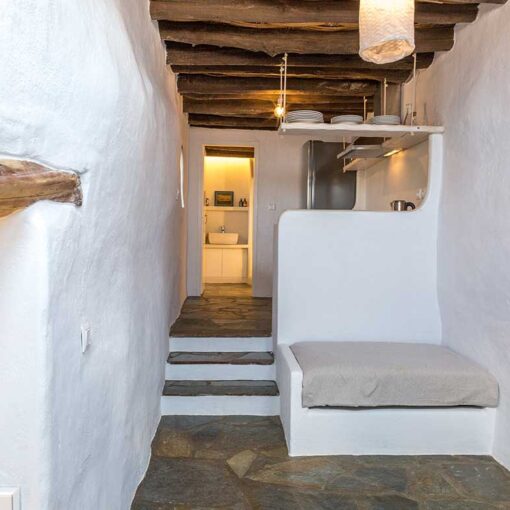 Single Bed
In the hallway connecting the rooms to the kitchen and bathroom, we also provide a single, pull-out bed. Please note this is not private, but can comfortably sleep one guest.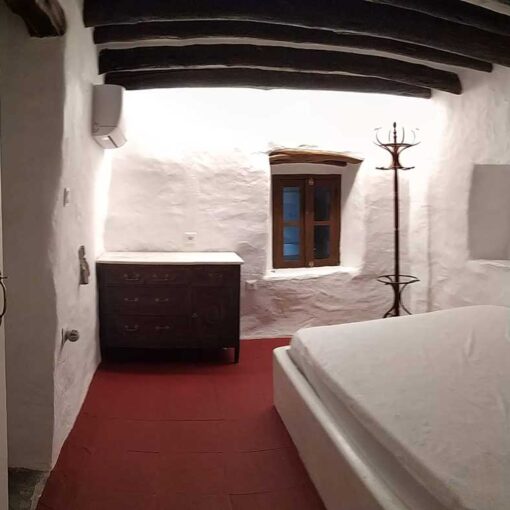 The box
If you have children or want to bring along another couple, our second bedroom offers you a large double bed crafted in the same style as the master bedroom. We call this room the Box because of its origin and unique feel. Small, but very cozy, you will love to lie in bed and let your eyes wonder out to the stars and sea.
Spaces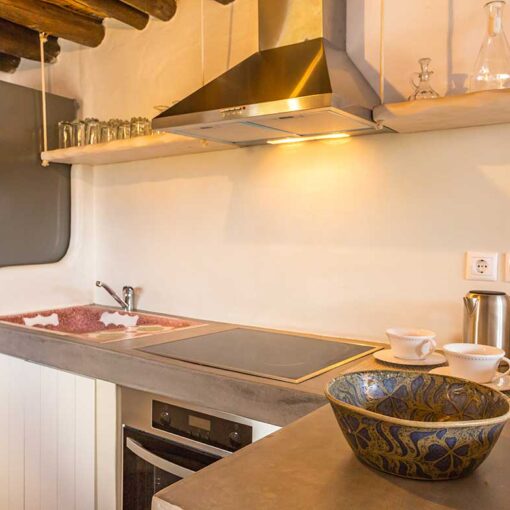 Kitchen
Our kitchenette is small, but new and fully operational. It has a large fridge and stove and is equipped with all the "must haves" for you to prepare any meal.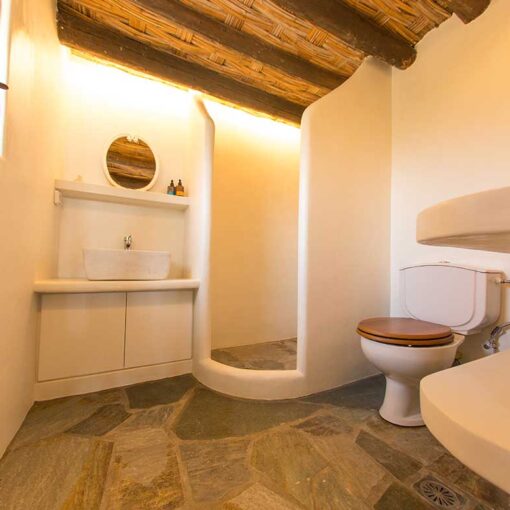 Bathroom
Our beautiful, roomy bathroom will delight you renovated crafted by the local master of the "patiti" technique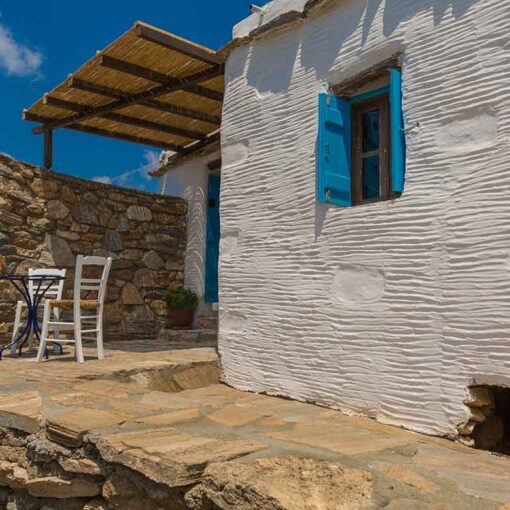 Balcony
The master bedroom has a private sunset terrace looking out to the mountains and sea where you can enjoy a quiet breakfast or drink. Guests may also access the large veranda of the main farmhouse .
Common Areas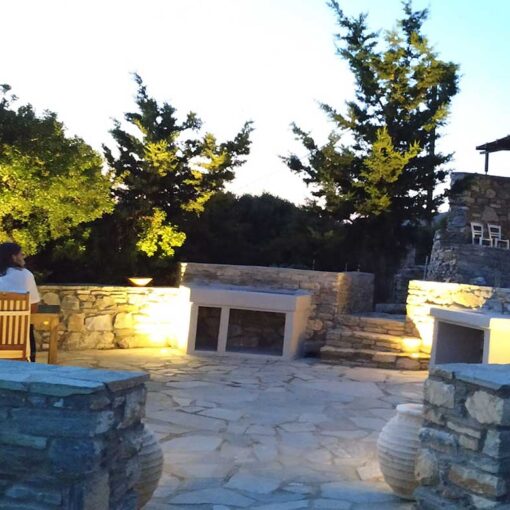 Deck/Patio
Our farmhouse threshing floor has been fully restored with Cycladic stone and converted into a patio for our guests only. Here you can lounge on our sunbeds or enjoy your meals under the Aegean sky.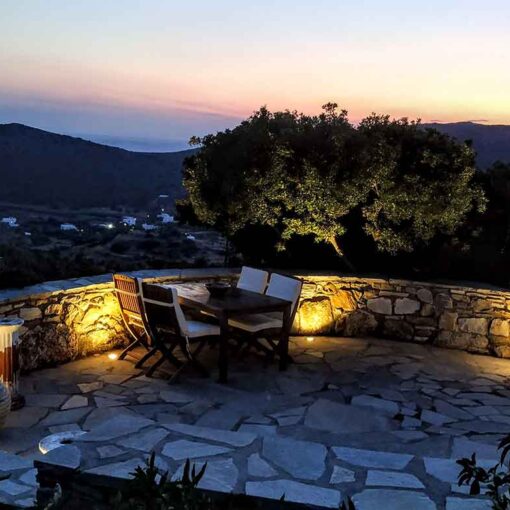 Dining Area
Dining Seating for 6 people
Fully restored with Cycladic stone, our threshing floor is equipped with a wooden dining table that comfortably seats six. This is the perfect spot for sunset drinks and dinner under the stars
Access & Getaways
Andros is a short boat ride from the Athens international airport and mainland, with regular daily routes and low fares. Ideally located, our home is the perfect launchpad for Andros getaways to beaches, sites, and seafront towns.
Availability
Rates
| From | To | Price |
| --- | --- | --- |
| 2023-03-19 | 2023-04-30 | €110.00 |
| 2023-05-01 | 2023-05-31 | €90.00 |
| 2023-06-01 | 2023-06-30 | €140.00 |
| 2023-07-01 | 2023-07-31 | €170.00 |
| 2023-08-01 | 2023-08-27 | €230.00 |
| 2023-08-28 | 2023-09-03 | €150.00 |
| 2023-09-04 | 2023-09-30 | €120.00 |
| 2023-10-01 | 2023-10-31 | €110.00 |
House Rules
Children allowed
Property is fenced, but stone steps require care
Pets allowed
Pets are welcomed in the outdoor area
No events
Small drinks and dinner parties are welcomed
No smoking
Smoking only allowed in the outdoor areas
Max guests: 5 (sleeps up to 5 adults)
Check in after 16:00. Check out before 11:00.
Frequently Asked Questions
Discovering the Island: The perfect launchpad
Spiti Anita Cycladic farm house for rent is the perfect launchpad for Andros getaways. From the pristine beach of Fellos only minutes down the road, to the spectacular beaches of Zorgos and Vitali (~40' drive) the house provides great access around the island.

For food lovers, you can walk or drive down to Andrea's tavern for a delicious home cooked meal or drive up to Kossis for the real "Greek lamb" experience (~15' drive). You can also visit Gavrion (~5' drive), with an array of choices, from traditional souvlaki to a romantic meal on the water.

If you enjoy a more social, fun life, Chryssi Ammos beach (with loungers, music and full bar) and the old port of Batsi (with many bars and restaurants) are no more than 15' away.
If you like day trips, the main town of the Chora, with its beautiful neo-classical homes and international exhibitions is the place to go (~45' drive).
For nature lovers, ask us about the tracks, springs and archeological sites on the island and we will help you plan the perfect day.
Andros is a short boat ride from the mainland (1 hour with the fast ferry, or 2 hours with the conventional boat line). Boats leave twice a day from the port of Rafina, which is located ~30′ from the centre of Athens and ~20′ from the El. Venizelos International Airport. Booking is easy and basic boat fares are ~19 Euros per person and ~44 Euros per car.
How much does it cost to stay?
The prices may vary depending on your stay. See the prices by entering your dates.
Book Directly With Us
Lowest price guarantee / Secure deposit / Exclusive offers